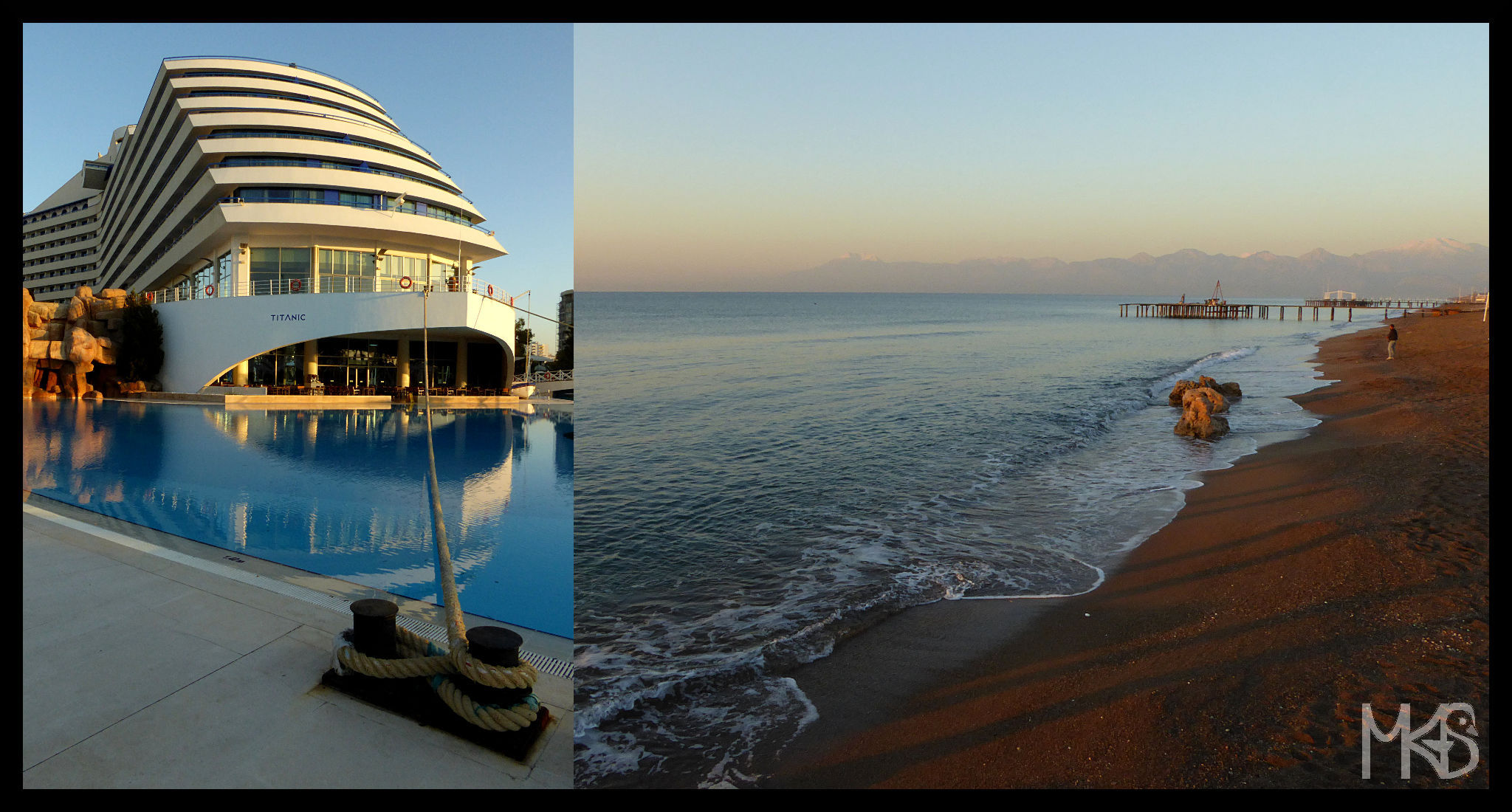 Alanya and Antalya are two famous beach destinations in Turkey and besides beaches these places also have many other attractions, even perfect for winter visiting. I'll focus now on Antalya, since I haven't been to Alanya yet. 🙂
My recommendation is to setup a kind of base for your daily trips, best a bit outside of the thriving city of Antalya. We stayed in an amazing, family friendly hotel, called Titanic Beach Lara that is really shaped like the Titanic!
For most casual tourists, it has everything you can name it – spa, outside heated swimming pool, play ground, mazes, and of course direct beach access from where you can see under optimal weather conditions the majestic mountain peaks of Batı Toroslar (western Taurus range).
By staying nearby Antalya, you can avoid the biggest crowds, traffic jams etc., but still be very nearby to wonderful ancient sites! So, if you are not interested in spending days at the beach, stay just outside Antalya and visit all beautiful places around! 🙂 Within the next few days, I'll show you some of them.
__________________________________________________________
Alanya i Antalya to nazwy dwóch popularnych miejscowości wypoczynkowych w Turcji. Oprócz plażowania, oferują one wiele atrakcji i doskonale się nadają nawet na "zimową" wycieczkę. W Alanya jeszcze nie byłam, więc skupię się teraz na Antalyi.
Antalya i jej najbliższe okolice bardzo dobrze nadają się na bazę noclegową. W ciągu kilku dni, można pozwiedzać ciekawe miejsca, znajdujące się w rozsądnej odległości. W ciągu kolejnych dni, przedstawię Wam kilka propozycji.
Będąc w Antalya, zatrzymaliśmy się w hotelu o nazwie Titanic Beach Lara, którego fragment widzicie na zdjęciu. 🙂
Hotel poza bardzo ciekawą konstrukcją, oferuje również wiele atrakcji. I po całym dniu zwiedzania, bardzo przyjemnie można tam spędzić wieczór.