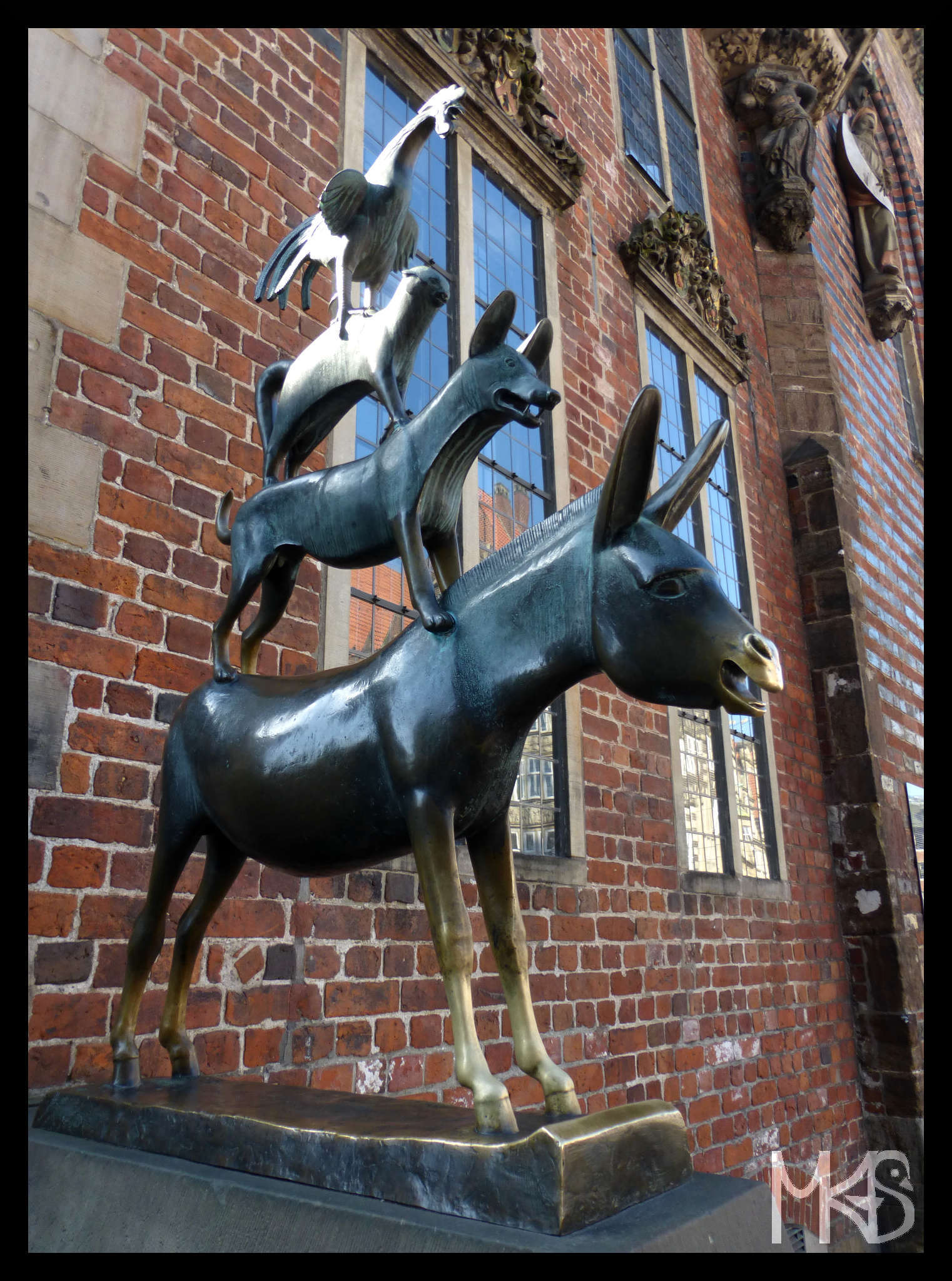 Bremen is another beautiful German city (not so far from Leer). It actually has a very long history and even some legends are connected with Bremen.
Do you know the Brothers Grimm fairytales? You'll find different characters from their stories in some German towns. There is even so-called "German Fairytale Route", that starts in Hanau, the birthplace of the Brothers Grimm. The route ends in Bremen and covers 600 km.
I heard that today's picture should be recognized by all German children, because there are characters from very famous fairytale. Donkey, dog, cat and rooster were treated badly by their owners and decided to go to Bremen to become musicians. In Bremen you can find out what happened to them. 🙂
__________________________________________________________
Brema (Bremen) to kolejne piękne, niemieckie miasto (całkiem blisko Leer). Brema to nie tylko miasto z ciekawą historią, ale też otoczone jest baśniami i legendami.
Czy znacie baśnie braci Grimm? Wielu baśniowych bohaterów znajdziecie w różnych niemieckich miasteczkach. Co więcej, w Niemczech jest trasa niemieckich baśni, która rozpoczyna się w Hanau, czyli w miejscu urodzin braci Grimm. Ta trasa ciągnie się przez 600 km, a kończy się w Bremie. 🙂
Słyszałam, że dzisiejsze zdjęcie powinno być rozpoznane przez wszystkie niemieckie dzieci, ponieważ przedstawia bohaterów znanej baśni. Osioł, pies, kot i kogut byli źle traktowani przez swoich właścicieli, wiec postanowili uciec do Bremy aby zostać tam muzykantami. Co spotkało zwierzaki dowiecie się w Bremie. 🙂