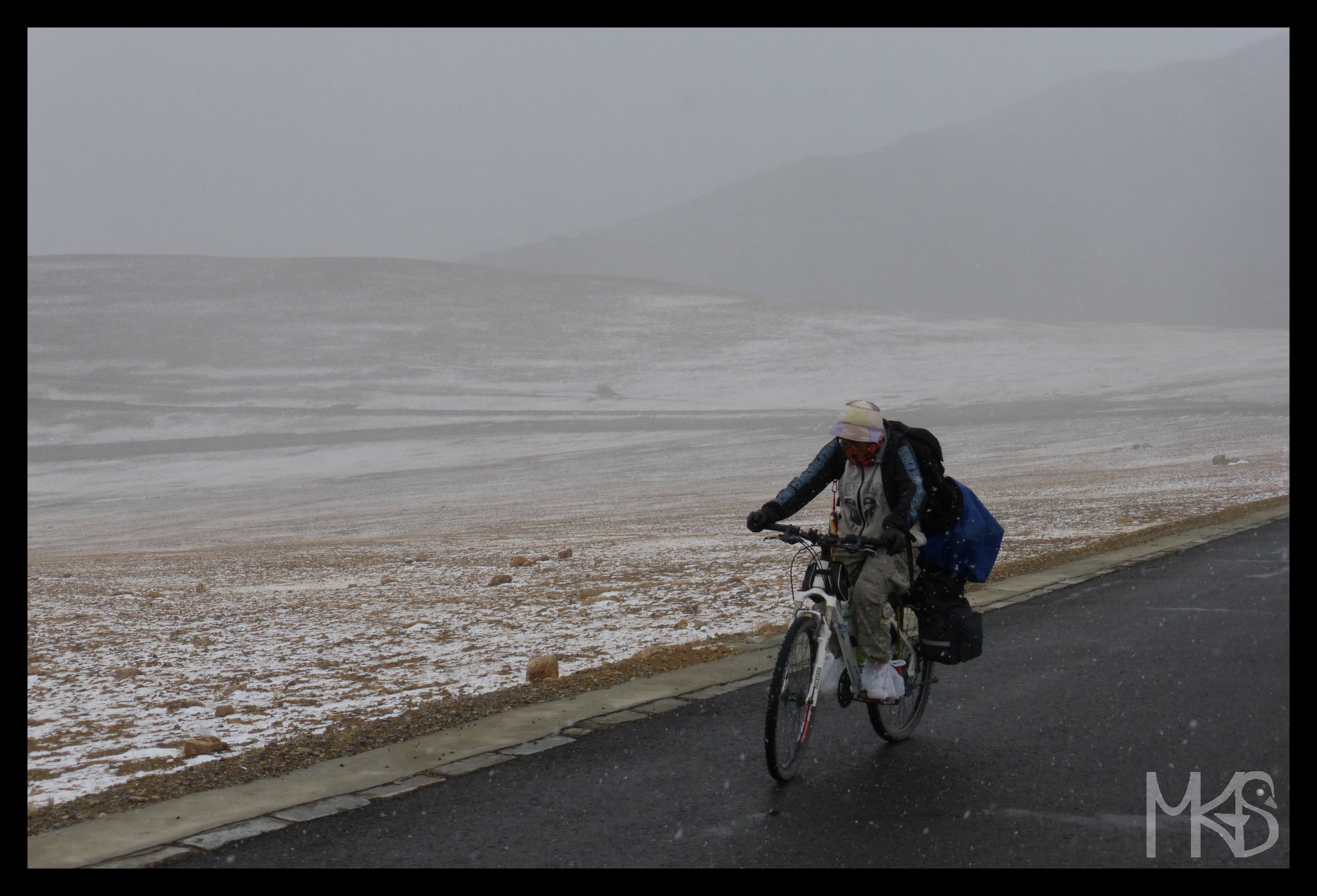 Tibet, because it's located at high elevation, has a unique climate. In general, it's often cold and dry. But you don't feel so cold during the day because of strong sunshine. It also increases the difference between day and night temperature.
It's possible to distinguish 4 seasons (spring, summer, autumn, and winter), but as a tourist you're more interested what's the weather in different months, depending what you want to do it Tibet.
I was in Tibet in autumn, when theoretically it should be "still warm" and not rainy. Indeed, it was mostly sunny and didn't rain at all. However, mountains are mountains so weather can change drastically and very fast. My first days in Tibet, I spent in a quite high altitude and experienced a strong snow storm. We had to drive quite a lot. Fortunately we had an off-road car and a good driver. But still, some parts were quite dangerous, and even the driver was a bit scared. Luckily, we safely arrived to our destination points. Actually, after we crossed the worst (most dangerous) mountain pass, that road was closed because of bad weather conditions. So we're really lucky that nothing bad happened to us and also that we didn't get stuck on the other side of Tibet.
In the picture, you see a cyclist (in the middle of nowhere) trying to go a gains strong wind, snow and fog. I think he didn't expect so harsh conditions at that time of the year…
__________________________________________________________
Tybet, z racji swojego położenia, a także wysokości nad poziomem morza, ma specyficzny klimat. Uogólniając, można powiedzieć że często jest zimno i sucho. Słoneczne dnie wydają się być bardzo ciepłe, a z kolei noce są raczej dość chłodne.
Można wyróżnić w Tybecie 4 standardowe pory roku, jednak turyści raczej przyglądają się pogodzie w poszczególnych miesiącach, w zależności jaki jest ich cel na odwiedziny Tybetu.
Byłam w Tybecie jesienią, czyli w okresie gdy powinno być sucho i jeszcze w miarę ciepło. I rzeczywiście, większość dni była słoneczna, a deszcz nie padał. Jednak jak to w górach – pogoda może się zmienić bardzo szybko i bardzo drastycznie. Moje pierwsze dni w Tybecie spędziłam dość wysoko nad poziomem morza i silna burza śnieżna deptała nam po piętach. W tym czasie mieliśmy zaplanowaną dość długą trasę w samochodzie; na szczęście auto było przygotowane na kiepskie warunki a kierowca doświadczony. Jednak pewne fragmenty drogi były bardzo niebezpieczne, z kilkoma stromymi przejazdami, do tego silny wiatr i śnieg, i kiepska widoczność sprawiły, że nawet kierowca był przestraszony. Na szczęście udało nam się bezpiecznie przejechać całą trasę. Mieliśmy też dużo szczęścia, ponieważ zamknięto naszą drogę, krótko po tym gdy ją przejechaliśmy, więc szczęśliwie pokonaliśmy całą trasę i nie zostaliśmy zablokowani po drugiej stronie Tybetu.
Na zdjęciu widzicie rowerzystę, który dzielnie jedzie pod wiatr, śnieg i we mgle; chyba nie spodziewał się aż takiej kiepskiej pogody o tej porze roku.