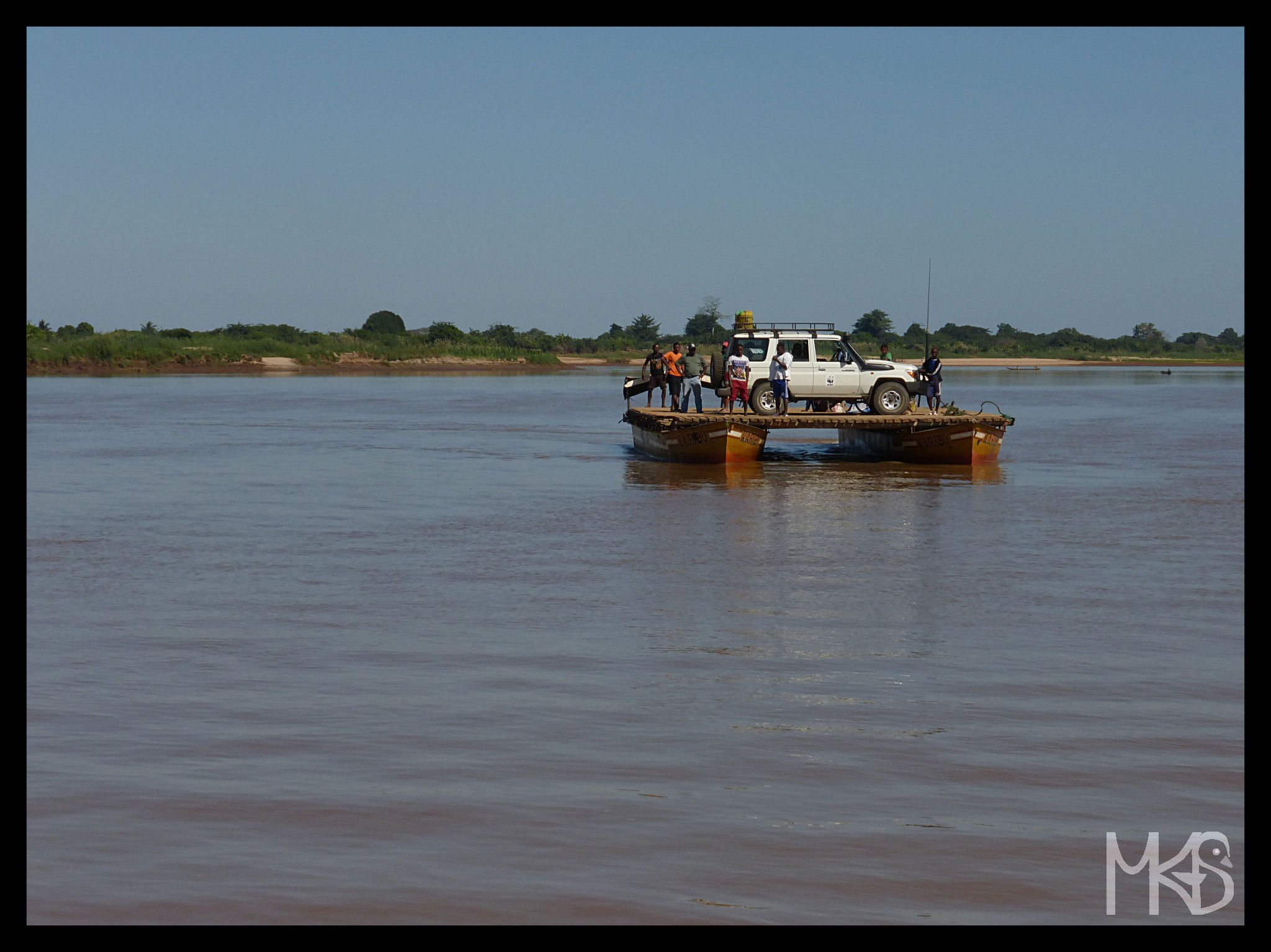 Traveling in Madagascar may be difficult. Actually, crossing river, like shown in the photo, is one of the easiest parts.
Even the few tarmac roads are usually in very bad conditions. Traveling by car at night is absolutely not recommended, since some regions are quite dangerous and the probability of robbery is high. I'm saying it from our experience, nothing bad happened to us, but we were warned and experiencing a frightening trip with interruptions at many military check points waiting for safety clearance (which meant waiting until we were a party big enough to be unattractive for robbers hiding in the high grass of the beautiful and moon-lighted landscape).
The best is to rent an off-road car with a driver or even with a guide, especially when you don't speak any French.
Madagascar is a beautiful, but low developed country. And if you want to get to some places in a reasonable time and safety, it's better to take into account all safety and security advises.
__________________________________________________________
Podróżowanie na Madagaskarze bywa skomplikowane, a nawet niebezpieczne. Przekraczanie rzeki, w sposób widoczny na zdjęciu jest jednym z mniejszych problemów.
Drogi na Madagaskarze bywają w opłakanym stanie i jest to wykorzystywane przez bandytów. Z tego też powodu, w niektórych rejonach, odradza się podróżowanie nocą. Dlaczego? Wyobraźcie sobie, że droga składa się z wielkich dziur (naprawdę wielkich – polskie drogi są w rewelacyjnym stanie jeżeli ktoś chciałby porównać). Wjeżdżając samochodem z jednej dziury w drugą trzeba bardzo zwolnić. Jest to więc idealna okazja żeby napaść na samochód "z bogatymi turystami", ponieważ nie są w stanie nagle przyspieszyć. Niestety musieliśmy odbyć taką nocną podróż w niebezpiecznym rejonie i bardzo często byliśmy zatrzymywani przez wojsko. Były to kontrole naszego samochodu i udzielanie rad aby uważać, i o ile to możliwe trzymać się w grupie kilku samochodów.
Jeżeli planujecie wynająć samochód na Madagaskarze to polecałabym to tylko gdy porozumiewacie się bez problemu językiem francuskim. W innym razie, lepiej wynająć auto z kierowcą, a nawet z przewodnikiem. Albo skorzystać z biura podróży, w pewnych miejscach to może być wygodniejsza i bezpieczniejsza opcja. Doświadczony kierowca i przewodnik na pewno przyczynią się do tego, że nasza podróż będzie bezpieczniejsza.
I jeszcze jedno po tym straszeniu, pamiętajcie, że Madagaskar to piękny kraj, ale nie nazwałabym go ucywilizowanym, w europejskim znaczeniu tego słowa. 😉 Przed podróżą, zapoznajcie się i weźcie sobie do serca wszelkie rady odnośnie bezpieczeństwa.