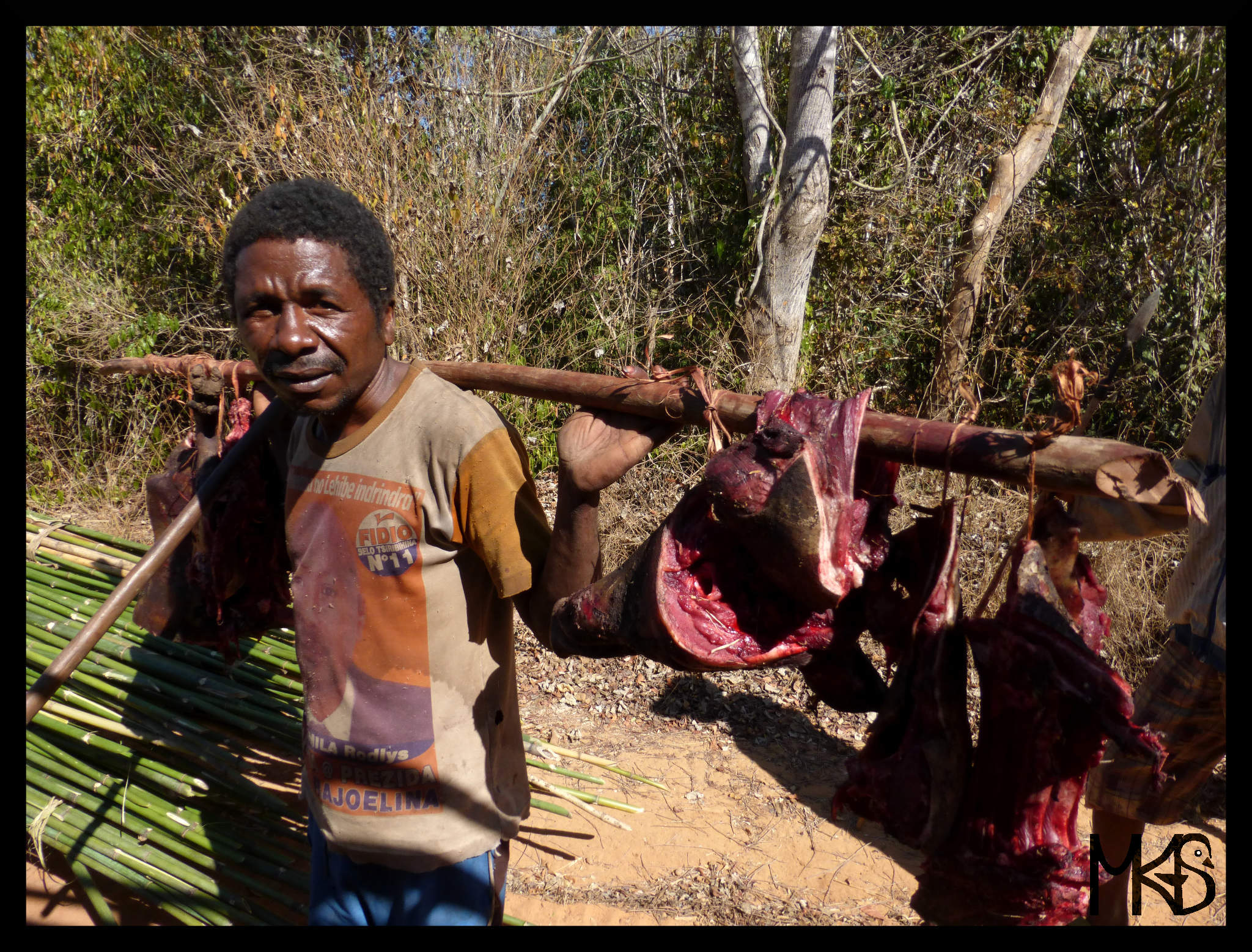 We're driving through the savannah on indigenous paths. It's far from being even a dirt road so our speed couldn't be so high. From time to time different people were coming to us and asking for something…
Children on the way ask for empty plastic bottles, so they can use them to carry water.
This man from the picture, wanted to sell us meat… I only wanted to take a photo of him, he didn't mind it.
But the highlight of this trip was a group of children who caught a baby crocodile and wanted to sell it to us! I don't know how they managed to steal this baby from its mother! We didn't talk to them. I didn't take any picture of them to not encourage them to do it again.
But imagine the surprise on my face when I saw it…
__________________________________________________________
Znaczny dystans pokonywaliśmy samochodem po "polnych drogach", stąd nasza prędkość do zawrotnych nie należała. 😉 Jadąc wolno, od czasu do czasu, podchodzili do nas różni ludzie z mniej lub bardziej oryginalnymi pytaniami…
Dzieci często prosiły o puste butelki plastykowe, ponieważ używają ich do noszenia wody.
Ten mężczyzna ze zdjęcia, chciał nam sprzedać mięso… Nie byłam tym zainteresowana, ale bez problemu zgodził się aby zostać sfotografowanym.
W pewnym momencie podbiegła do nas grupka chłopców. Chcieli nam sprzedać maleńkiego krokodylka! Wyobraźcie sobie zdziwienie na mojej twarzy jak ich zobaczyłam! Nie mam żadnego zdjęcia, ponieważ nie chcieliśmy z nimi rozmawiać. Wydaje mi się, że najlepiej było ich zignorować aby nie zachęcać do ponownego wykradania krokodylków lub innych zwierząt.