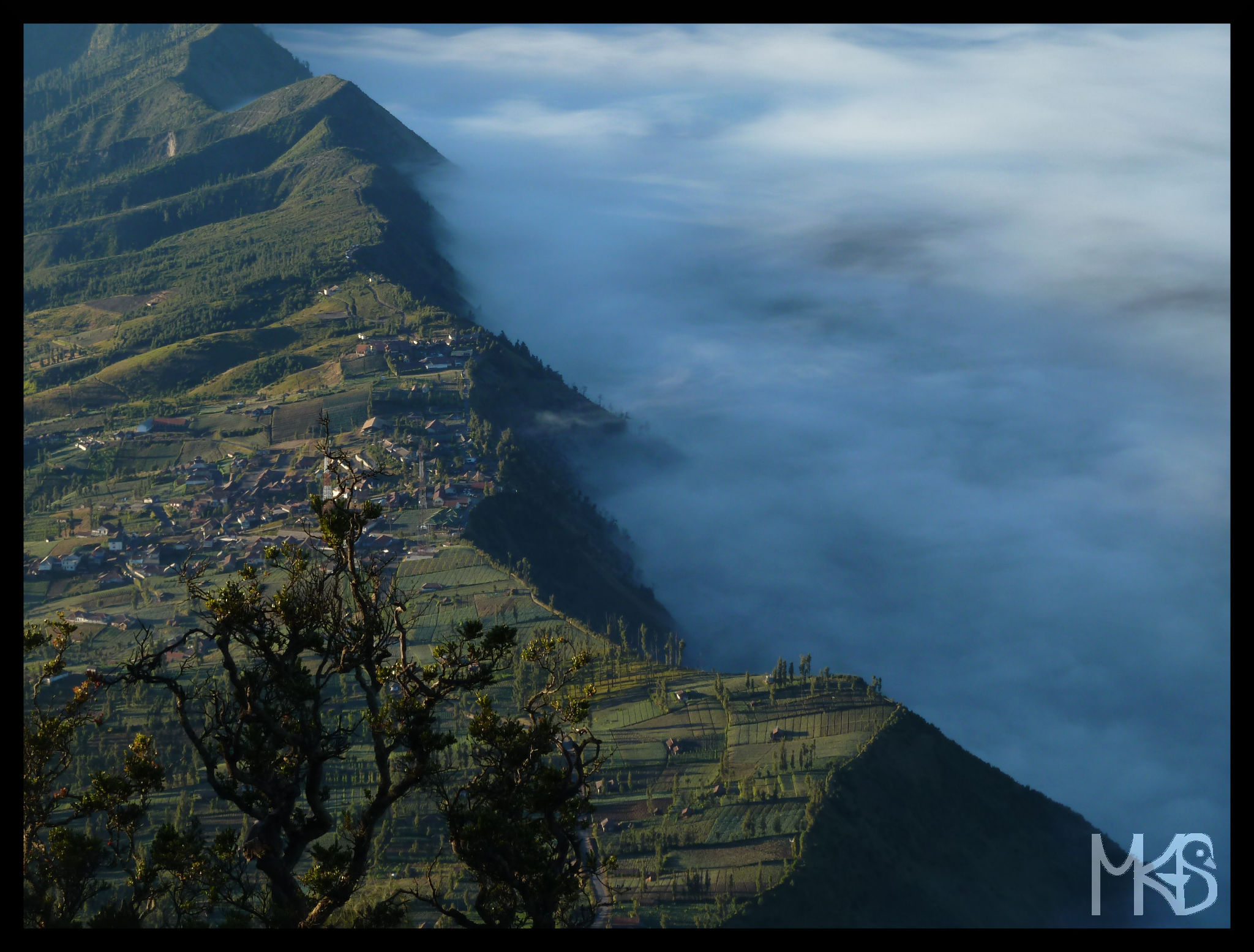 The most spectacular thing you can do nearby Mt. Bromo is to witness sunrise.
Well, first you need to get there, it's a bit complicated, but possible! I think the easiest is to fly to Surabaya, that's only 70 km from the nation park with Mt. Bromo. However, it takes around 4 hours to drive this distance… You can use a public transport or organize a private one and go e.g., to the mountain village Cemoro Lawang.
Sunrise is around 5:30 a.m., so you need to get up even at 3 a.m. to arrive there on time, and before the crowds to find a good spot! Be aware, that even in a low season it may be extra crowded already at 4 a.m. And one more thing, at night or early morning, temperatures may drop even to zero degrees! During the day it gets warmer (about 20 C).
It may not sound like something nice to do, i.e., cold, crowded, but trust me, you'll enjoy every single moment of the volcanic view! 🙂
Today you see the Sea of Sands covered by clouds and nearby hills.
__________________________________________________________
Największą atrakcją w okolicy wulkanu Bromo jest możliwość zobaczenia wschodu słońca. Może brzmi to banalnie, ale to miejsce jest przepiękne samo w sobie, a gdy wyłania się kolorowo z ciemności, a następnie z chmur, pozostawia niesamowite wrażenie!
Najpierw trzeba jednak się tam dostać. Wydaje mi się, że najwygodniej jest przylecieć do miasta Surabaya, a stamtąd to już "tylko" 70 km, które pokonuje się w około 4 godziny… Można tę trasę przejechać autobusem, albo wynająć samochód. Dobrą bazą noclegową jest m.in. Cemoro Lawang.
Wschód słońca w tych okolicach jest około 5:30. Cieszy się on ogromną popularnością i zdarza się, że już o 4 rano najlepsze punkty widokowe są zatłoczone. Warto więc wstać dużo wcześniej.
Poza tym, trzeba być przygotowanym na chłód, temperatura w nocy może spaść nawet do zera stopni! W dzień się ociepli do około 20 C.
To pewnie nie brzmi zbyt zachęcająco – tłumy turystów i chłód, jednak jestem pewna, że to doświadczenie stanie się cudownym wspomnieniem.
Dzisiejsze zdjęcie przedstawia Morze Piasków pokryte poranną mgłą oraz okoliczne wzgórza.