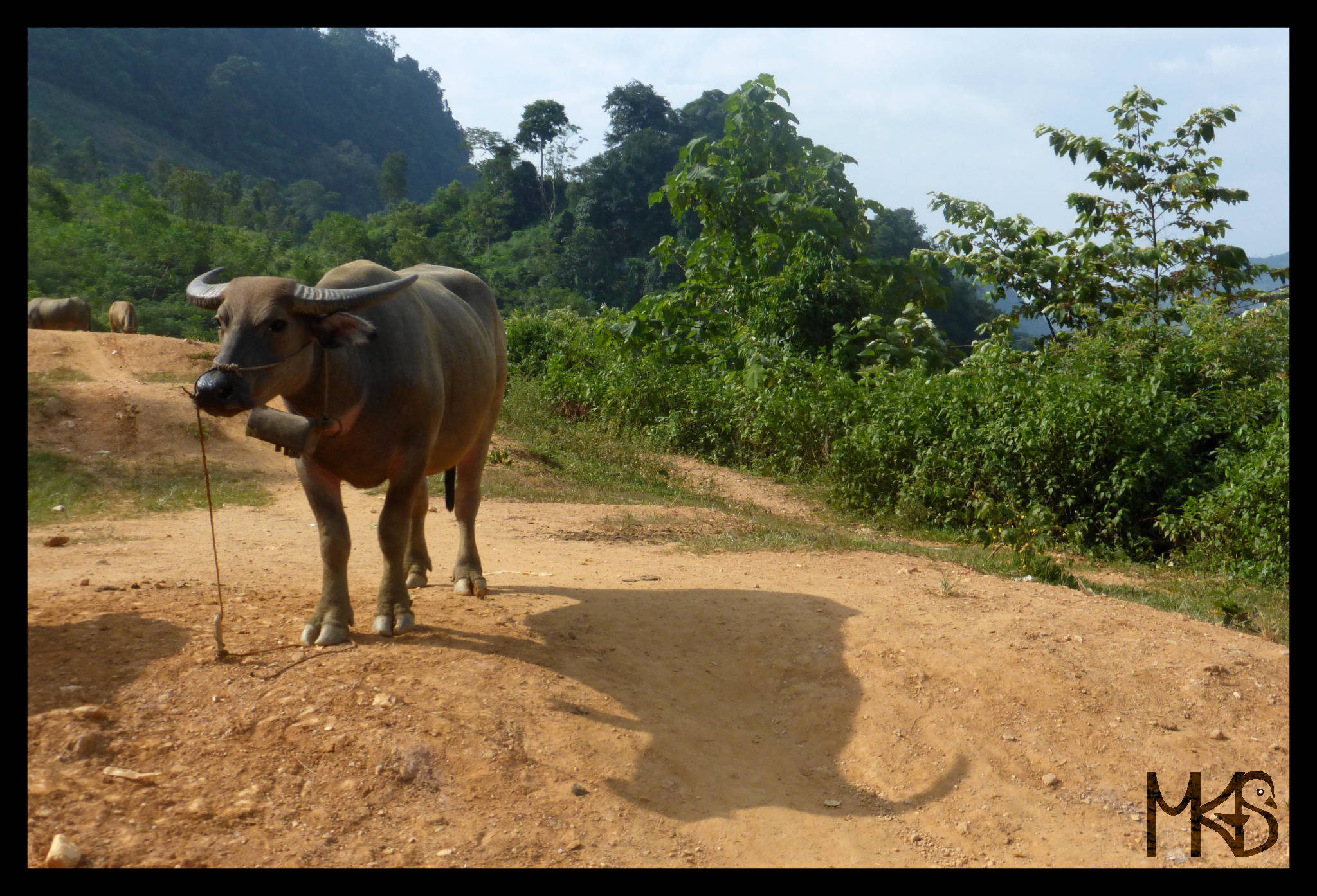 Today you see another picture from Coc Ly market, with one of buffalos (for sale ?).
So how to get to Coc Ly? I think, the best is to take a train to Lào Cai and then you need to take a local transport. Unfortunately, it's not possible to travel to Coc Ly by train, but Lao Cai is a good starting point for visiting the very north Vietnam!
Concerning trains, they are quite convenient way of transportation in Vietnam. A few times in Vietnam I was traveling by train, e.g., from Hanoi to Lao Cai. And based on my experience, I can say they're not so fast, but can be cheap. There are main routes, but some are still missing, so you cannot directly reach many touristic attractions; you can arrive to a nearby town and then have to change to a bus or a car.
What about the conditions of the trains? Well, they can be reasonable, or bad… It's also likely to have additional tiny-dark passengers in your compartment so better is not to look so carefully around. 🙂
I was more or less lucky with the cleanness on my compartments; the only annoying thing was extra strong air condition without any regulation, so I was quite freezing…
I read about plans to introduce fast Japanese trains in Vietnam, that would be an improvement!
__________________________________________________________
Dzisiaj pokazuję Wam kolejne zdjęcie z targu Coc Ly, tym razem przedstawia jednego z bawołów na sprzedaż.
Obiecałam wspomnieć jak można dostać się do Coc Ly. Najlepsza opcja to dojechać pociągiem do miejscowości Lào Cai, a następnie skorzystać z lokalnego transportu. Do Coc Ly nie da się dojechać pociągiem, jednak Lao Cai jest także dobrym punktem startowym do zwiedzania dalekiej północy Wietnamu.
Wracając do pociągów, to są one dość wygodnym środkiem transportu w Wietnamie. Kilka razy miałam okazję z nich skorzystać, m.in. na wspomnianej wyżej trasie z Hanoi do Lao Ca. Na podstawie mojego doświadczenia mogę powiedzieć, że cena biletu może być zachęcająca, choć prędkość nie zawsze oszałamiająca. 😉 Za wadę uznaję brak połączenia z wieloma atrakcjami turystycznymi – często można dojechać tylko do pobliskiem miejscowości i wtedy trzeba skorzystać z autobusu lub samochodu.
A jak z czystością w pociągach? Powiedziałabym, że jest do zaakceptowania, ale może być kiepsko jak się źle trafi. Możemy mieć też dodatkowych małych pasażerów w przedziale, więc nie polecam za bardzo się rozglądać. 😉 Moje przedziały były znośne, nie narzekałam, jedynie przeszkadzała mi koszmarna klimatyzacja, której nie można było regulować – nie spodziewałam się tak marznąć w Wietnamie…
Słyszałam o planach wprowadzenia szybkich japońskich pociągów w Wietnamie – to by było coś!