=================================================== KONKURS ~ 1 – 12 lipiec 2015 ~ "W krainie kolibrów" ===================================================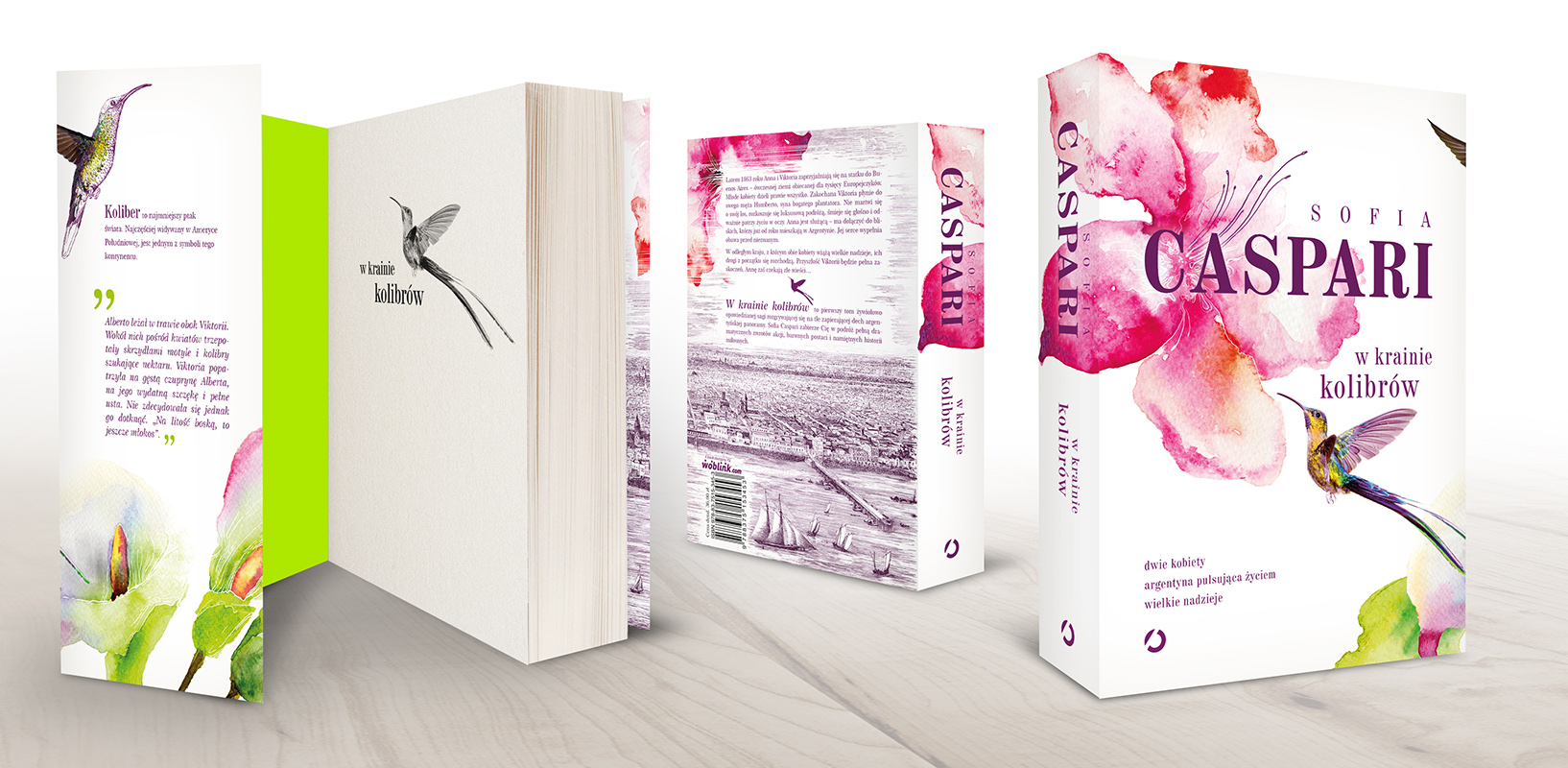 "Jestem w Argentynie!
Argentyna, Kraina Srebra, Río de La Plata, Srebrna Rzeka – nie wiem, które określenie tego kraju najlepiej go opisuje. Przypłynęłam tutaj statkiem – wiem, to staromodne, ale inaczej nie poznałabym Anny i Victorii. Anna płynęła do swojej rodziny, a Victoria do ukochanego męża. Dzieliło je wszystko – pochodzenie, majątek, a przede wszystkim, oczekiwania. Ich historie… no cóż, nigdy nie można być pewnym tego, co nas czeka. Sama nie wiedziałam czego się spodziewać. Kojarzyłam Argentynę z pięknymi krajobrazami, barwnymi kolibrami i gaucho (argentyńska odmiana kowbojów), ale miejsca, które zwiedziłam i historie, które poznałam zupełnie mnie zaskoczyły.
Widziałam pustynie soli i nie mogłam uwierzyć własnym oczom. Gdziekolwiek sięgnąć wzrokiem, było widać sól, sól i jeszcze raz sól! Na chwilę zatrzymałam się w dolinie Córdoby, pełnej kościołów, klasztorów i prastarych budowli z białego wapienia. Ciągle towarzyszą mi wierzchołki Andów widoczne na horyzoncie i sięgające niemal samego nieba! Piję dużo yerba mate – jak wszyscy tutaj. Pewnie chcecie wiedzieć coś o kuchni argentyńskiej – często jadam caldo, zupę mięsną, przyprawioną ají, czyli papryką, a do tego asado, poza tym rodzaj herbatników, zwanych galletas i wszystko popijam winem. Spędzam dużo czasu z Anną i Victorią, poznałam też ich rodziny. Ich świat stał się na chwilę moim światem, dlatego tak trudno będzie mi je pożegnać. Chciałabym żebyście je poznały!
Opisuję Argentynę, piękne widoki i poznanych ludzi, ale pewnie zastanawiacie się, jak to się stało, że niespodziewanie wyjechałam w tak odległą podróż?
Moją podróżą była lektura książki Sofii Caspari "W krainie kolibrów" 🙂 Nigdy nie sądziłam, że podróżowanie z książką jest możliwe, dosłownie przeniosłam się do Argentyny! To jedna z niewielu książek, po których od razu chce się wyruszyć, poznawać, doświadczać i smakować.
"W krainie kolibrów" to pięknie wydaną saga tętniąca życiem i emocjami opowiadająca losy kobiet, które wyruszyły do Argentyny, podczas fali europejskich emigracji w XIX wieku. Świetna wakacyjna lektura napisana z rozmachem. Trzyma w napięciu, a wielowątkowa akcja co rusz zaskakuje. A to wszystko na tle zapierającej argentyńskiej panoramy.
Premiera książki jest właśnie dzisiaj – 1 lipca 🙂
Polecam tę lekturę wszystkim, którzy marzą o dalekich podróżach, lubią odkrywać nowe kultury i chcą poznać dwie intrygujące kobiety, które nigdy się nie poddają!"
__________________________________________________________
Konkurs
Co sądzicie? Książka zapowiada się interesująco?
Wydawnictwo Otwarte przygotowało dla Was 2 egzemplarze tej książki.
Nasz konkurs potrwa od 1 do 12 lipca 2015 i ma bardzo proste zasady:
W trakcie trwania konkursu napiszcie do mnie wiadomość korzystając z formularza "Contact", a jako temat – "Subject" wpiszcie tytuł książki.
Dodajcie mój blog do obserwowanych, o ile jeszcze tego nie zrobiliście 🙂 Albo przez WordPress albo "Subscribe to Blog via Email". (Znaleźć mnie można także na Facebook, Google+ i Twitter – jeżeli te formy są dla Was wygodniejsze).
13 lipca wylosuję zwycięzców, a podam ich 14 lipca.
Jeżeli coś jest niejasne – pytajcie!
Powodzenia!
———————————————
Wyniki konkursu (13.07.2015):
———————————————
Z pomocą mojego znajomego pingwina (zdjęcie poniżej) wylosowaliśmy 2 osoby:
Bardzo dziękuję wszystkim za udział w konkursie!
Serdecznie gratuluję zwycięzcom!
I ciągle zapraszam do Argentyny!