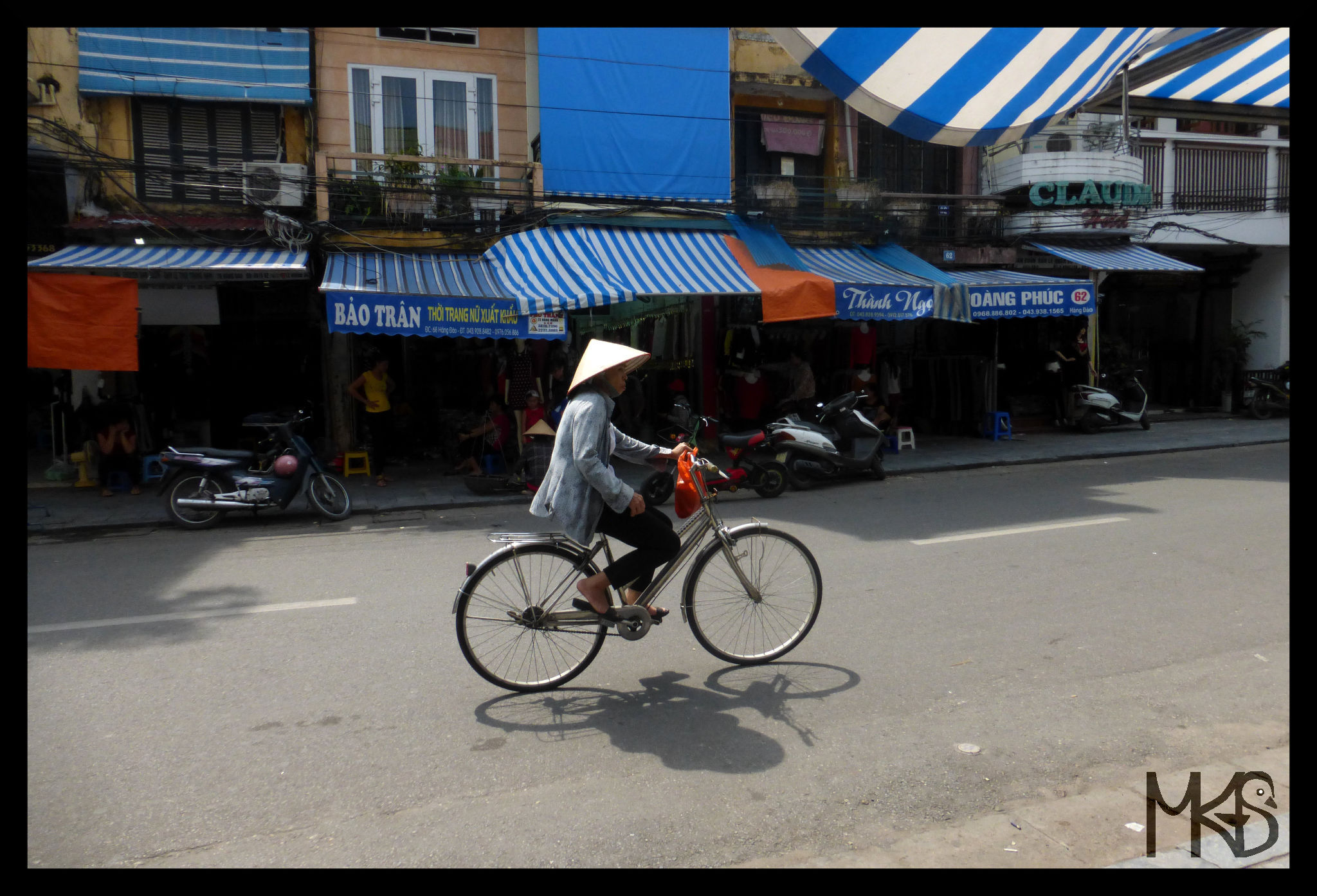 Hanoi is a capital of Vietnam. However, Ho Chi Minh City is the largest Vietnamese city.
I haven't been to Ho Chi Minh City, but based on what I heard and read about it, I'm not really impressed. I visited Hanoi and liked it a lot. Do you know both cities, what's your impression?
Hanoi is considered as one of the main cultural centers of Vietnam, where you'll find interesting cultural and historic places. I can recommend to take a walk in an old town or even a cyclo tour, visit some temples and museums. And if you want to see something typical for Vietnam, go for the Water Puppet show.
I enjoyed a lot observing Vietnamese people wearing traditional clothes (yesterday's photo). I saw them in different temples. They were so elegant because of wedding or graduation, so they are not everyday clothes.
I also liked a lot seeing so many Vietnamese cycling and wearing typical hat (today's picture). It makes the city more charming. 🙂
__________________________________________________________
Hanoi to stolica Wietnamu. Jednak największe miasto to Ho Chi Minh, wcześniej znane jako Sajgon.
Nie byłam w Ho Chi Minh, a to co słyszałam czy przeczytałam na temat miasta nie zachęca mnie do odwiedzin. Jednak zwiedziłam Hanoi i bardzo mi się podobało. Mieliście okazję odwiedzić oba miasta? Jaki są Wasze wrażenia?
Hanoi jest uważane za jedno z głównych centrów kultury w Wietnamie i zdecydowanie znajdziecie tam ciekawe miejsca do odwiedzenia. Przede wszystkim polecam wybrać się na spacer po starym mieście, odwiedzić kilka świątyń i muzea. A jeżeli lubicie tradycyjne przedstawienia albo chcecie zobaczyć coś typowego dla Wietnamu – wybierzcie się na przedstawienie kukiełek w wodzie.
W Hanoi bardzo mi się podobało, że wiele osób było ubranych w tradycyjne stroje (jak na wczorajszym zdjęciu). Jednak wkrótce się okazało, że ten strój jest z powodu różnych okazji, głównie ślubu albo zakończenia szkoły.
Typowe wietnamskie kapelusze też często goszczą na ulicach (i to bez specjalnej okazji), jak na dzisiejszym zdjęciu. To też nadaje uroku. 🙂