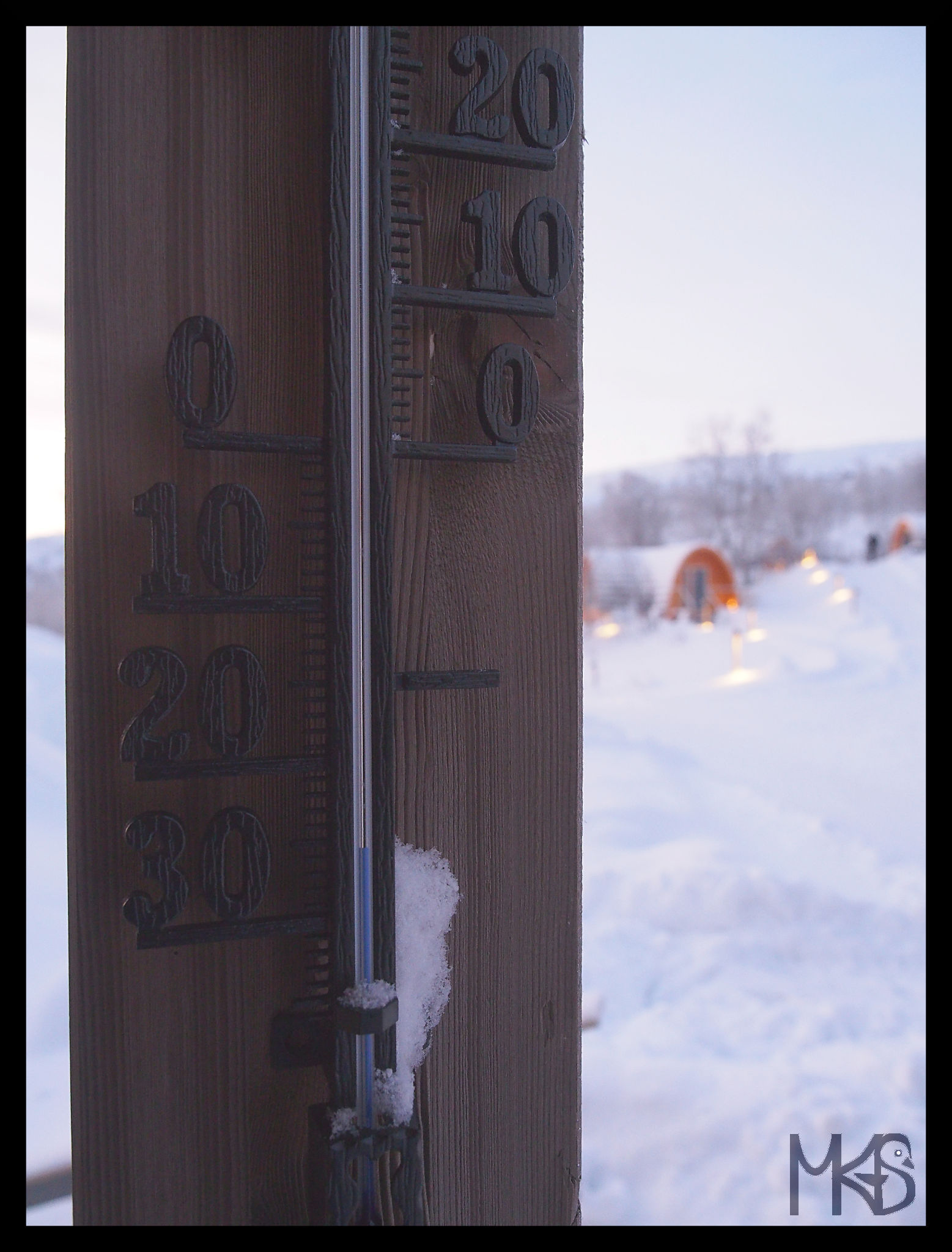 One day during our stay in Kirkenes, we took in the morning a picture of the thermometer that was showing -26ºC, at night it was even a few degrees colder… I'm sure for many it sounds crazy and much too cold. For me, it's also too cold, but I know with proper clothing I can survive. 😉
General advice is to wear many layers, and I totally agree! However, the most critical parts are head, feet and hands. Warm hat is a must. And also fatty cream should be applied on the face. With warm gloves it's a bit more complicated, because it's difficult to take pictures while wearing the warmest ones. So it's a good idea to have at least two pairs of gloves, thick and thinner for holding your cameras. For me it's also difficult to keep warm feet, that's why I decided to buy a very warm shoes. They are larger then my normal size, so I can wear 2 pairs of socks and still have space inside my shoes (which makes the trick because air is a good insulator). But it's also much better when I can move my feet/toes inside my shoes to increase blood circulation and make myself warmer.
You can also buy hand warmers, disposable or reusable, and place them in your pocket, shoes or gloves. I tried them, but they didn't work well for me. Well, maybe they're old… I don't know, but I'm not convinced…
What works the best for me is movement. 😉 Seriously, when I start feeling colder, I just move, jump etc. Always helps. 🙂
And, if you still feel cold, you can always ask for warm clothes and shoes from the Snow Hotel!
Do you have any tricks to stay warm?
__________________________________________________________
Któregoś dnia w Kirkenes, zrobiliśmy zdjęcie termometrowi, który wskazywał -26ºC. To pewnie była średnia temperatura podczas naszej wizyty, choć w nocy było jeszcze o kilka stopni zimniej. Myślę, że dla wielu jest to zdecydowanie za zimno. Sama też nie przepadam za aż takim mrozem, ale wiem, że odpowiednio ubrana dam radę. 😉
"Na cebulkę" to typowa i oczywista rada jak się ubrać, gdy za oknem jest taki straszny mróz. Wiele, różnych warstw zdecydowanie pomaga. Jednak, ja zawsze muszę najbardziej zadbać o głowę, stopy i ręce. Ciepła czapka to podstawa, ale też warto zadbać o skórę twarzy i nasmarować tłustym kremem. Te najcieplejsze rękawiczki mają z reguły wadę, gdy fotografujemy; rzadko kiedy można w nich sprawnie trzymać/używać aparat. Stąd najlepiej sprawdza się połączenie cienkich rękawiczek (do robienia zdjęć), z zewnętrzną warstwą bardzo grubych. I czas na stopy, to chyba moja najwrażliwsza na zimno część ciała. Moja sprawdzona metoda, to ciepłe buty, które są kilka rozmiarów większe niż mój standardowy rozmiar. Dzięki temu mogę poruszać stopą/palcami, nawet mając 2 pary grubych skarpet.
Można też kupić ocieplacze do rąk, jednorazowe lub do wielorazowego użytku. To takie małe paczuszki (o różnej zawartości w zależności od metody działania), które można włożyć do butów, rękawiczek, czy kieszeni. Będąc na Grenlandii miałam kilka, ale nie zadziałały dobrze, więc nie jestem przekonana. Może trafił mi się jakiś stary zestaw…
I jeszcze jedno, gdy czuję że robi mi się zimno po postu zaczynam się więcej ruszać, np. skakanie w miejscu działa rewelacyjnie. 😀
A gdybyście ciągle marzli, zawsze można dostać ciepłą odzież i buty od Snow Hotel!
A Wy macie jakieś metody na mróz?