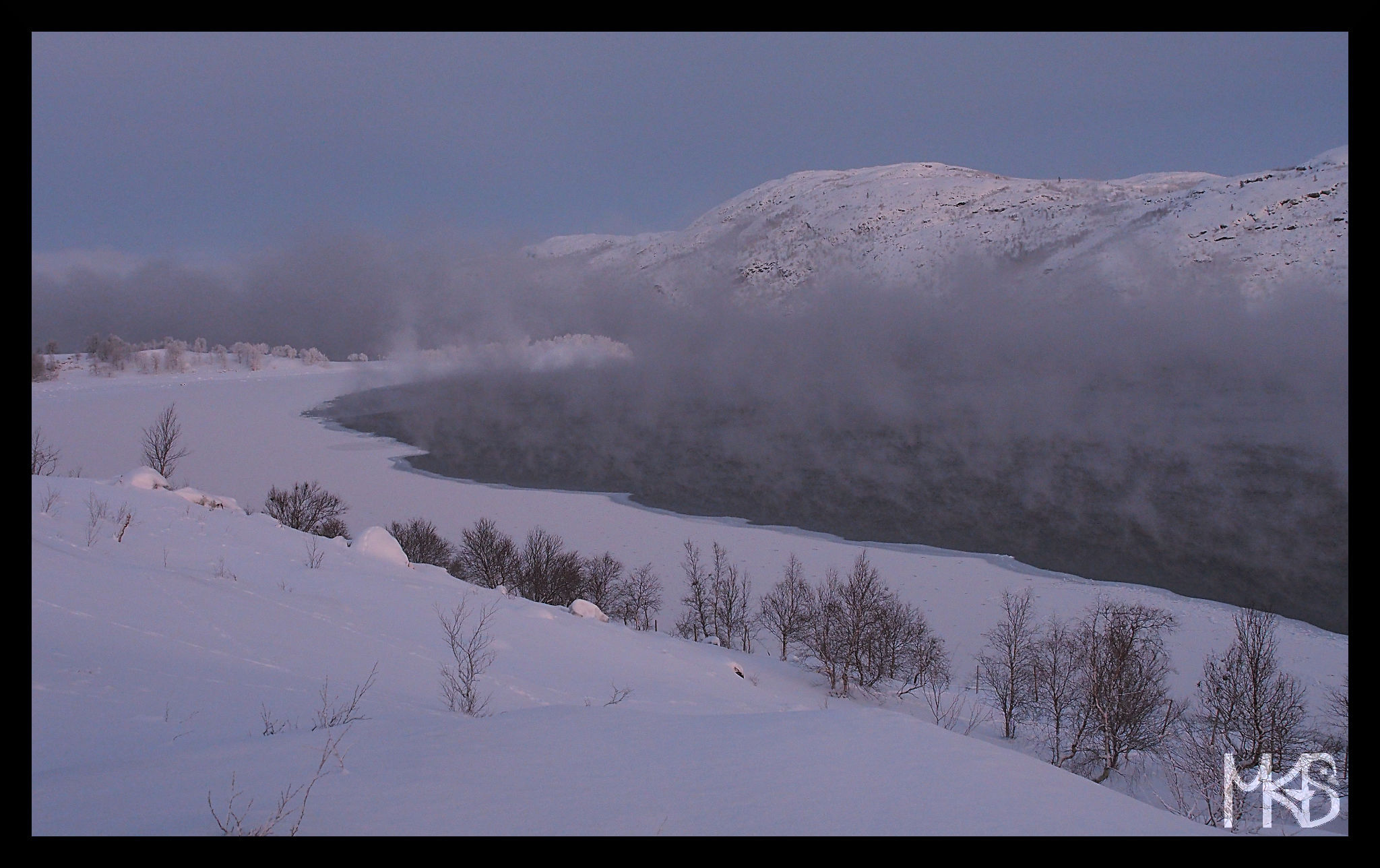 A polar night is a night that lasts for at least 24 hours. It can be experienced only within the northern and southern polar (Arctic/Antarctic) circles. The opposite phenomenon is a polar day, occurs when the Sun stays above the horizon for more than 24 hours, and it sounds much more pleasant, I guess. 😉
During a polar day, nights are not completely dark. However, during a polar night, usually, it's not completely dark all the time! I guess, it may be a bit surprising. Only in places more north then 85° or south less than 5°, and only at times the moon is well below the horizon, it's dark all the time. So polar night may look differently depending on the location inside the polar circle.
So January in Kirkenes had a few hours a "day" that wasn't completely dark, but somehow brighter than a typical twilight. It wasn't very bright, but you can have the impression it's a cloudy day.
Today's picture was taken at this "bright" part of the day (around 10 a.m.); you can see this pinkish or bluish touch.
__________________________________________________________
Noc polarna, to noc trwająca co najmniej 24 godziny. Można jej doświadczyć tylko w obrębie północnego lub południowego koła podbiegunowego. Analogicznie, dzień polarny, to czas gdy słońce znajduje się nad horyzontem ponad 24 godziny; i to chyba dla większości z nas brzmi sympatyczniej. 😉
W trakcie dnia polarnego, noce nie są zupełnie ciemne. A podczas nocy polarnej, zazwyczaj, też nie jest zupełnie ciemno! To może być pewnym zaskoczeniem. Jednak oficjalnie wyróżnia się różne rodzaje nocy polarnej i całkowita ciemność panuje tylko w wąskim obszarze, około 5° od bieguna, i tylko gdy księżyc jest pod horyzontem.
W styczniu, w Kirkenes, "dzień" wygląda jak ponury, zachmurzony dzień. Wiem, kiepskie porównanie, ale próbuję przez to powiedzieć, że jest dość "jasno" biorąc pod uwagę, że to noc polarna!
Na dzisiejszym zdjęciu widzicie zimowy krajobraz Kirkenes. Zdjęcie zostało wykonane około godziny 10 rano. Powiedziałabym, że jest jasno, z charakterystycznym odcieniem różu czy niebieskiego.