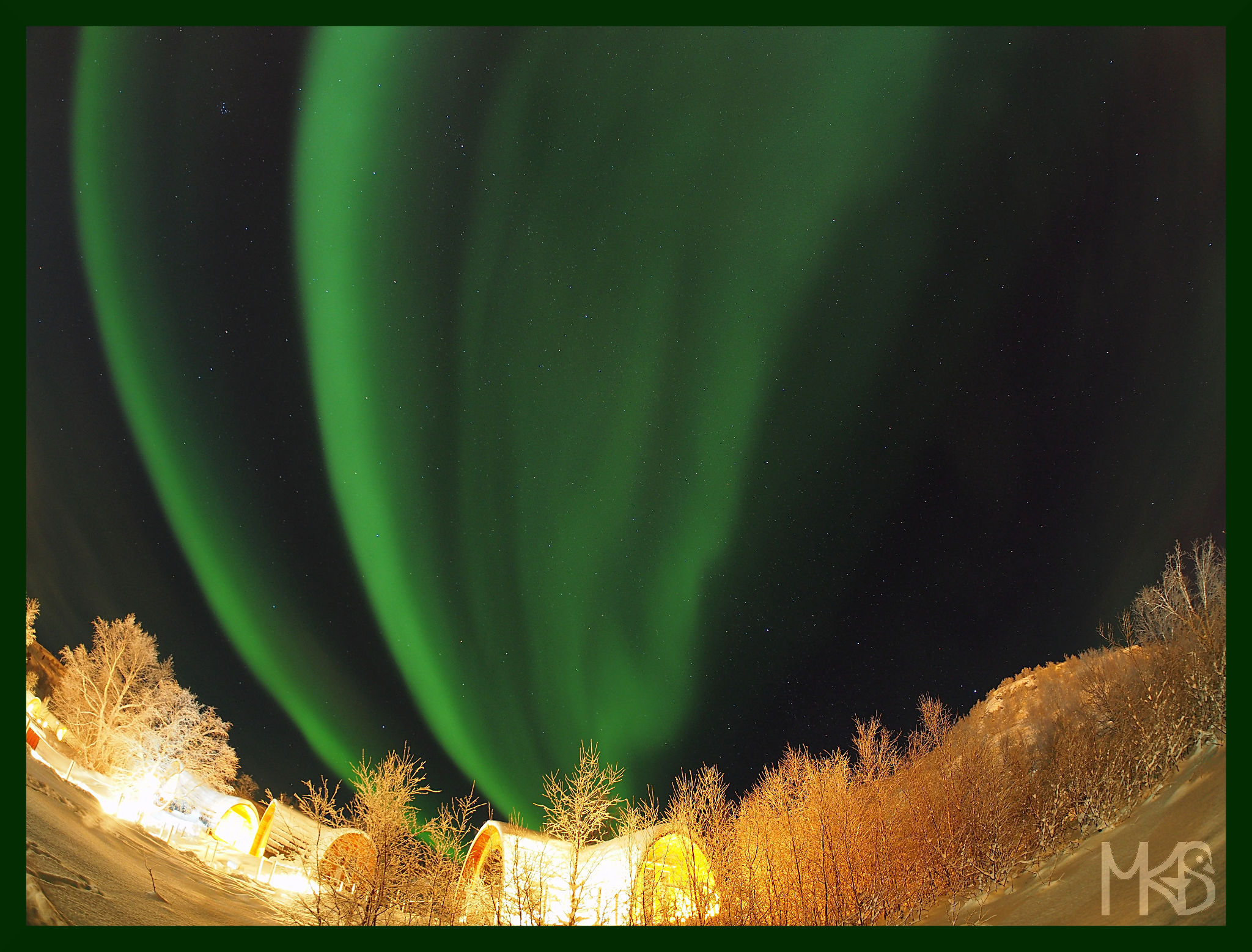 Sleeping in an igloo is definitely the main attraction of the Snow Hotel in Kirkenes, however, as I said before, there is much more to do and to see!
Northern lights (today's picture) is a natural phenomena, so we cannot predict it much in advance. But being during polar night in the far north, in places like Kirkenes, it's quite likely to spot northern lights (aurora)! Before traveling to Norway, I was checking everyday aurora forecast or solar activity. It wasn't very promising so we didn't want to put too much hope on seeing northern lights, but we really wanted… The first time I saw them was in Greenland and it was truly amazing. I hoped then my husband can see them too… And we're lucky, we saw them every night. Another wonderful experience from the north! 🙂
p.s. Tomorrow, I'll tell you about these wooden buildings at the bottom of today's photo, but northern lights will appear again on my blog soon. 🙂
__________________________________________________________
Spanie w igloo jest zdecydowanie główną atrakcją Snow Hotel w Kirkenes. Jednak, jak już wcześniej wspomniałam, nie jedyną!
Zorza polarna (dzisiejsze zdjęcie) jest naturalnym zjawiskiem, więc nie da jej się przewidzieć z dużym wyprzedzeniem. Będąc, podczas nocy polarnej, na dalekiej północy w miejscu takim jak Kirkenes, istnieje duże prawdopodobieństwo na zobaczenie zorzy. Przed naszą podróżą, sprawdzałam codziennie prognozę zorzową oraz aktywność słoneczną, i niestety nie wyglądało to obiecująco. Staraliśmy się nie robić sobie dużych nadziei, jednak bardzo chcieliśmy doświadczyć zorzy polarnej… Kilka lat temu, zimą, udało mi się zobaczyć zorzę na Grenlandii, i było to niesamowite doświadczenie. Tym razem, bardzo mi zależało aby i mój mąż ją zobaczył… I udało się, mieliśmy mnóstwo szczęścia i widzieliśmy zorzę każdej nocy. 🙂 Jedyne w soim rodzaju przeżycie! 🙂
p.s. Jutro opowiem Wam o tych ciekawych, drewnianych domkach, a do zorzy jeszcze wrócę później. 🙂