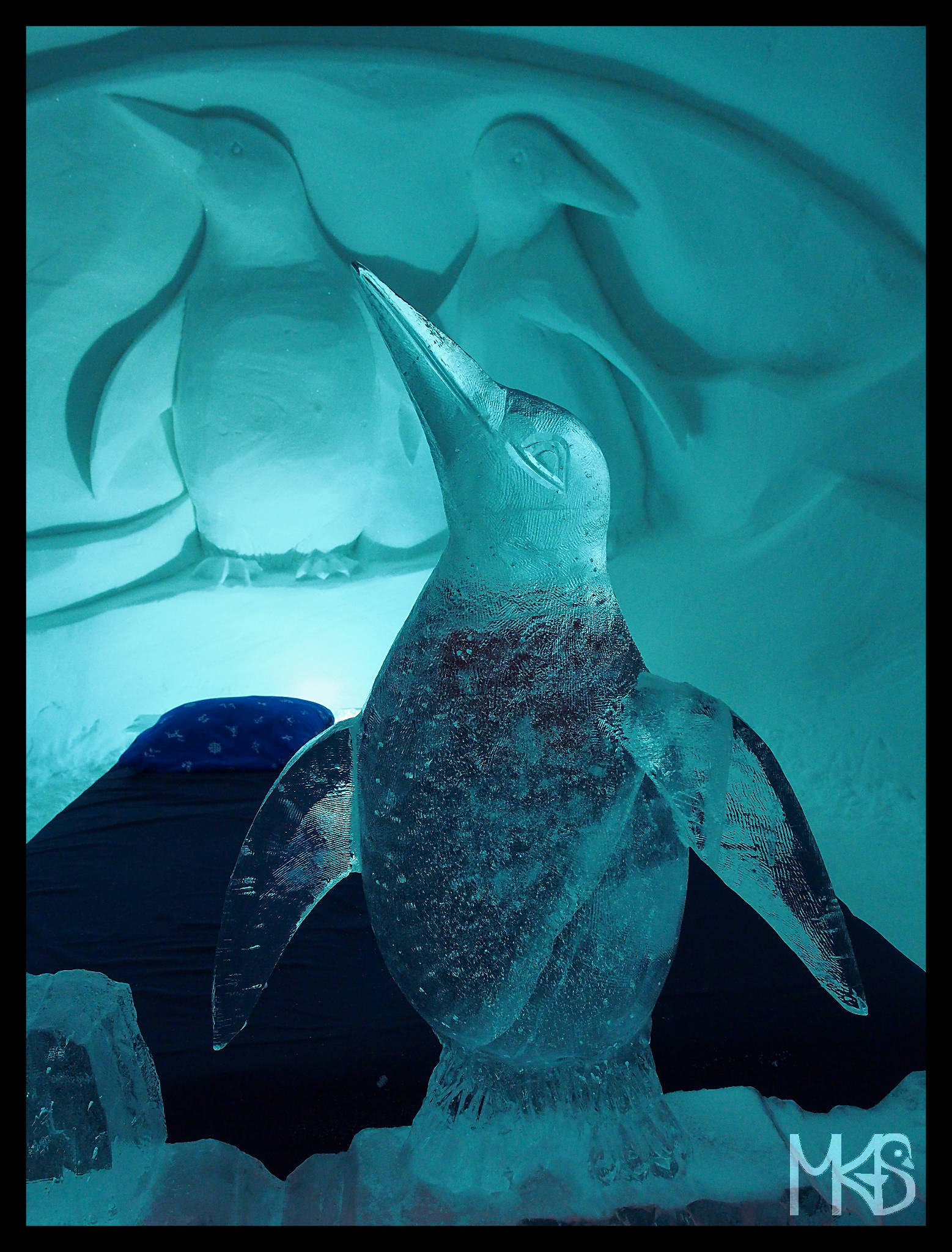 Today, as I promised you, I'll describe how it is to a sleep in an igloo at the Snow Hotel in Kirkenes.
Igloos are made for 2 persons (twin and double beds). In each igloo there is a bed frame (double or twin size) made of crystal clear ice of the nearby fjord, with mattresses, sheets and pillows, and sculptures made of ice. So there is not so much space, and it's not a good idea to bring your bag here. But don't worry, all igloos are connected via a snow tunnel with a permanent and heated construction 🙂 including locker room, showers, toilets, restaurant, and a lobby where you can rest, drink hot tea or coffee, or hide any time in the night, if you feel too cold. 😉
Each year igloos are differently designed following a new theme, moreover each igloo is not like any other. Today's picture shows my favorite igloo from this winter – it has lovely penguin ice sculptures. 🙂 We didn't get this igloo, but a very beautiful one with swans and hearts. Before people check in into their igloos, you will get a tour to have a look at all of them, and that's what we did – it's like having an evening event at an art gallery, except art is made of ice – very intriguing. 🙂
Now the biggest question – how cold is it inside? The temperature inside is constant and around -5 degrees Celsius. It stays like that even when it's -30ºC outside. But don't worry, you don't need to wear so much clothes to keep warm. You basically need to have warm, long underwear, socks and a hat. It's always better when clothes are made of wool, because they are natural and keep you warm. Beside these, you don't need to take nothing more with you. Very warm sleeping bags are provided by the hotel, as well as balaclavas and extra warm socks. While being there, friendly staff will explain you what to do before going to bed, and you'll be fine!
From my perspective, it's important to get warm before going to the igloo. When you feel warm while going to bed in the igloo, you'll be fine. But if you feel cold, or have wet socks, first change your socks, then go to the warm lobby and get warm. I think, when you already feel cold, it's difficult to get warmer in the igloos. Otherwise, it's a "cool" experience and you'll have lots of fun! 🙂
__________________________________________________________
Dzisiaj, zgodnie z obietnicą, opiszę jak wygląda noc w igloo, w Snow Hotel, w Kirkenes.
Tamtejsze igloo są przeznaczone dla dwóch osób (pojedyncze łóżko lub dwa łóżka). W każdym igloo znajduje się łóżko z lodu, materac, prześcieradło, poduszka i rzeźby wykonane z lodu. W igloo nie ma za wiele miejsca, więc nie tylko ze względu na temperaturę, nie warto przynosić do środka swojej walizki. Ale nie martwcie się, wszystkie igloo są połączone tymczasowym tunelem z budynkiem, w którym znajduje się wszystko co potrzeba, czyli łazienki, prysznice, pokój na bagaże, restauracja i sala, w której można w każdej chwili usiąść, odpocząć, schować się przed zimnem i napić gorącej kawy czy herbaty.
Co ciekawe, każde igloo jest inne! Co roku, igloo są projektowane i budowane, więc nie ma dwóch takich samych. Na zdjęciu, widzicie moje ulubione igloo z lodowymi rzeźbami pingwinów. My dostaliśmy igloo z pięknymi łabędziami i serduszkami. 🙂 Zanim ludzie pozajmują swoje igloo, można wybrać się na zwiedzanie i każde wnętrze obfotografować. 😉 To prawie jak zwiedzanie galerii z niesamowitą wystawą rzeźb z lodu!
I najważniejsze pytanie – jak zimno jest w igloo? Igloo zachowuje stałą temperaturę, nawet gdy na zewnątrz jest -30ºC, w środku jest około -5ºC. Jednak nie potrzebujecie zbyt wiele rzeczy! Wystarczy bielizna – koszulka z długim rękawem i kalesony, czapka i skarpetki. Najlepiej gdy wszystko jest wykonane z wełny, ponieważ to naturalny materiał i dobrze utrzymuje ciepło. Hotel zapewnia bardzo ciepły śpiwór, kominiarkę i grube skarpety. A już na miejscu obsługa hotelu wyjaśni Wam dokładnie co zrobić przed zaśnięciem. 🙂
Według mnie, a może to tylko takie kobiece podejście, ważne jest aby było nam ciepło zanim wejdziemy do igloo. Gdy czujemy, że jest nam ciepło przed pójściem do igloo, to zachowamy to ciepło i nie powinno być zimno. Jednak gdy jest nam wcześniej zimno, albo mamy mokre skarpetki, to koniecznie trzeba najpierw zmienić skarpetki, a następnie rozgrzać się i dopiero później udać się na nocleg w igloo. Wydaje mi się, że jeżeli jest nam zimno zanim wejdziemy do igloo, to trudniej się później rozgrzać. W każdym razie, bardzo polecam nocleg w igloo, bo jest niesamowite doświadczenie! 🙂