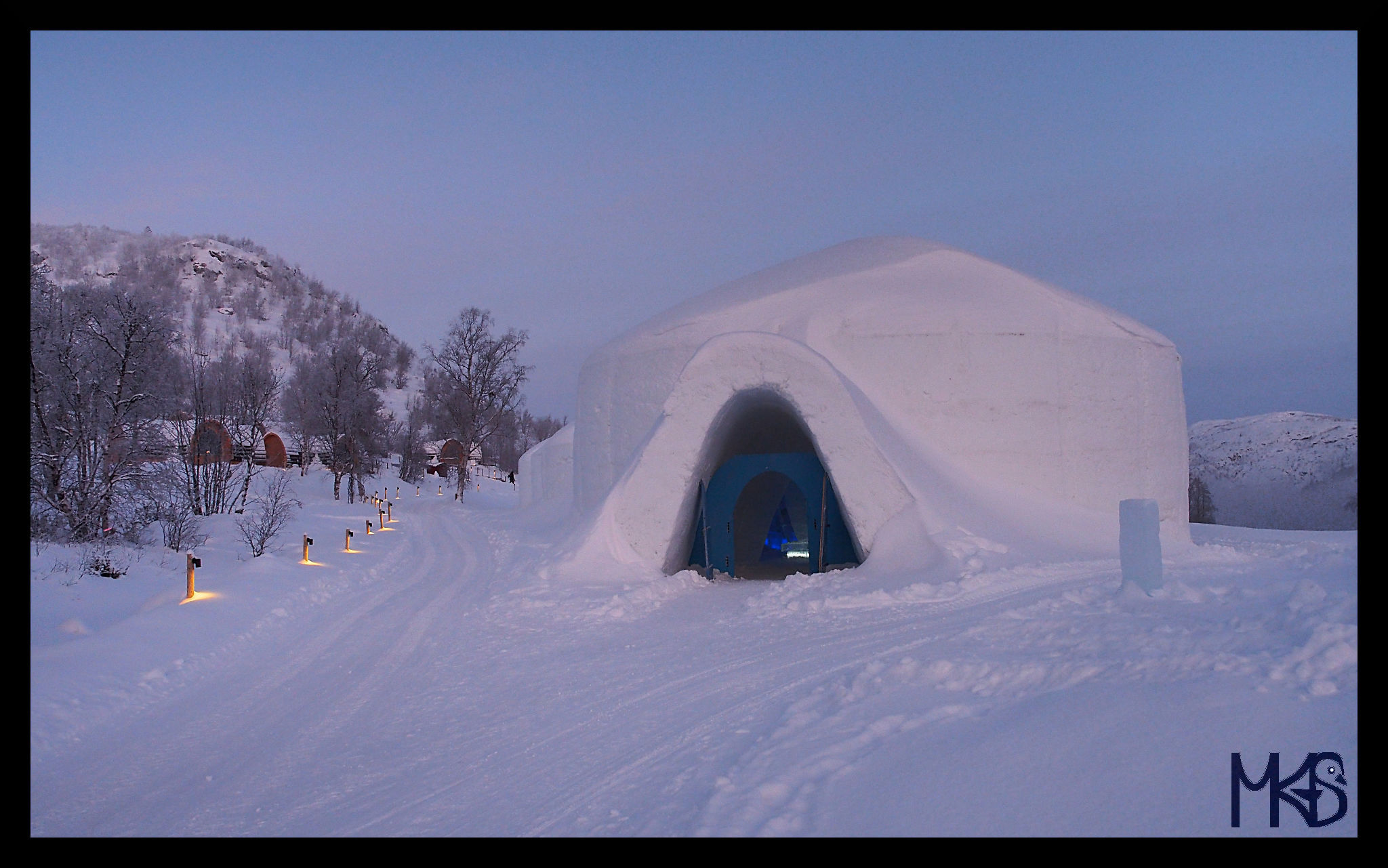 Finally, I'll show you pictures from outside Oslo. It's actually quite far from Oslo, almost 2000 km north, just close to the Russian border. I was lucky to spend there a few days and enjoy arctic-like winter. Until the end of February, I'll present highlights of this trip.
My main goal was to spend a night in an igloo for which I chose the "Snow Hotel" in Kirekenes.
By the end it was a good choice because of the many more attractions. Since sleeping in an igloo was the biggest motivation to go there, I'll start with this. Next days, I'll tell you more about winter, polar night, temperatures etc.
There are a few hotels that offer to sleep in igloos. You can find them not only in Scandinavia but also in Hungary or Slovenia. For my amazing experience, I chose Kirkenes in Norway. It's funny, because on their website is written "we change you", and that's really true! It sounds like a challenge to spend a night in an igloo, especially when it's very cold outside and dark. I had some doubts and fear, but managed to overcome them, and it felt great! 🙂
On today's picture you see the main entrance to a big igloo. Igloos for sleeping are smaller, and located at the back. Tomorrow, I'll explain in details how it works, what you need, how cold it's there etc. Stay tuned, it's going to be interesting! 🙂
__________________________________________________________
Nareszcie pierwsze zdjęcie z poza Oslo. 🙂 Zostało ono zrobione całkiem spory kawał drogi od Oslo, około 2000 km na północ, tuż przy rosyjskiej granicy. Miałam szczęście spędzić tam kilka dni i nacieszyć się cudowną arktyczną zimą. Do końca lutego, pokażę Wam skąd ten mój zachwyt. 🙂
Celem mojej wyprawy było spędzenie nocy w igloo. Jest kilka hoteli, które to oferują, nie tylko Skandynawia, ale i Węgry, czy Słowenia. Mój wybór padł na "Snow Hotel" w Kirkenes, w Norwegii. Jak się później okazało noc w igloo to tylko jedna z wielu atrakcji, ale że była ona moją główną motywacją do, podróży zacznę od igloo, a dopiero w kolejnych dniach opiszę zimę, temperatury czy noc polarną.
Na stronie hotelu w Kirkenes, znajdziecie informację, że zmieniają oni ludzi, i jest w tym dużo prawdy! Najlepszym przykładem jest przezwyciężenie strachu do spędzenia nocy "na mrozie". Zapewniam, że jest to łatwiejsze niż się wydaje, a do tego daje ogromną satysfakcję! 🙂
Na dzisiejszym zdjęciu widzicie główne wejście do dużego igloo. Igoo do spania jest mniejsze i znajduje się w tyle. Jutro opowiem o szczegółach, jak się przygotować na noc w igloo, co trzeba zabrać itp. A dziś już serdecznie zapraszam na kolejne lutowe posty, będzie ciekawie! 🙂