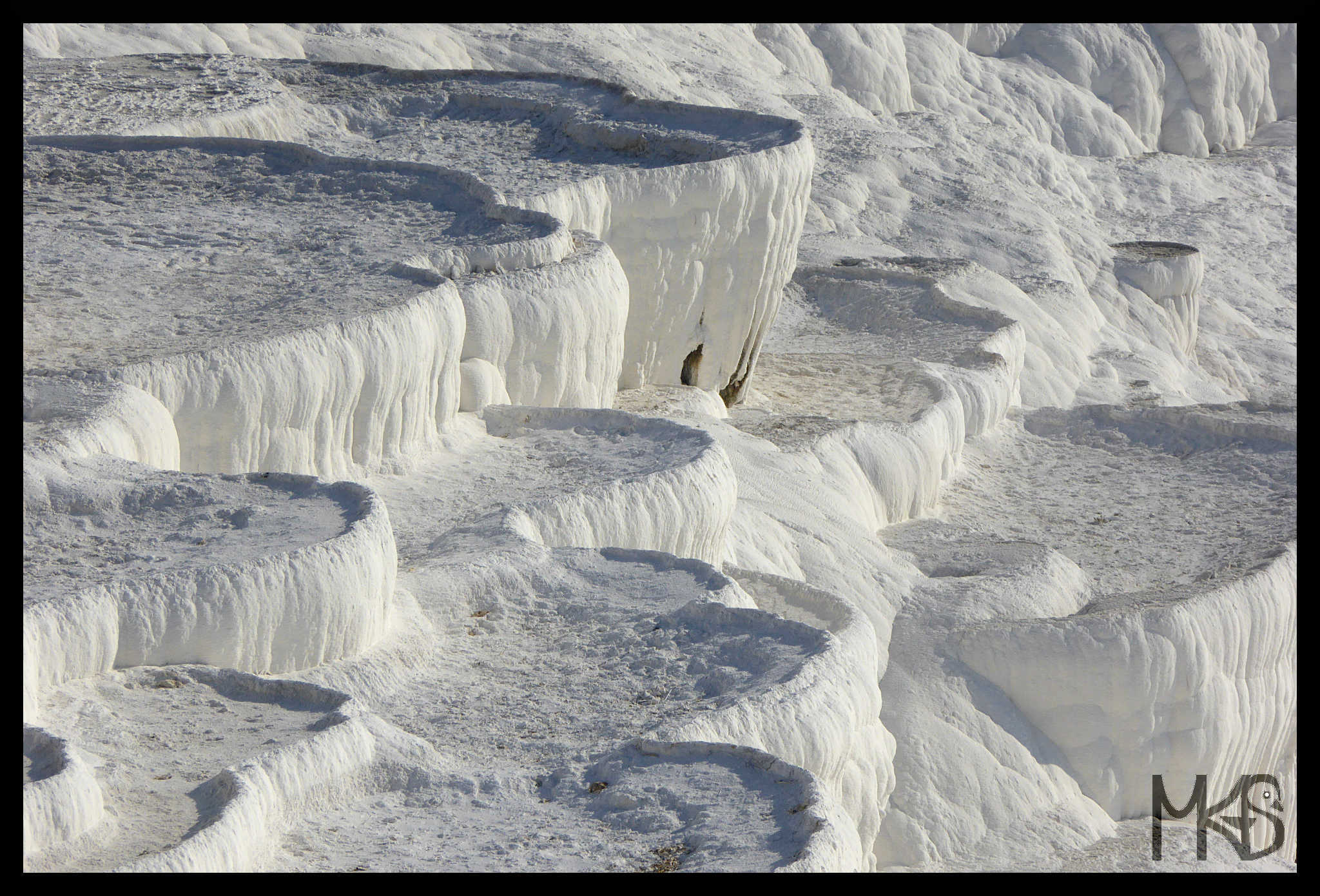 Just recently, I learnt that Pamukkale means in Turkish "a cotton castle", isn't it a nice name?
From far, Pamukkale looks like snow, but then you see palm trees just nearby, so it cannot be so cold, and cotton is a better explanation than snow. 😉
Pamukkale is a natural site that consists of hot springs and travertines, terraces of carbonate minerals left by the flowing water. Unfortunately, Pamukkale is changing quite fast, and some years ago there was much more water. In today's picture you see dried terraces, I think they're still very beautiful, but tomorrow I'll show you for a comparison terraces full of water.
We went to Pamukkale in December, so early morning may be quite chilly, but expect a warm and sunny midday. Since we started sightseeing in the morning, we thought that it's going to be too cold to walk barefoot on the water-filled terraces, which is the only allowed way. But the water is actually very warm, so walking wasn't a problem at all. 🙂
__________________________________________________________
Dopiero niedawno dowiedziałam się, że Pamukkale po turecku oznacza "bawełniany zamek", czyż nie jest to ładna nazwa? Z daleka, Pamukkale wygląda jak góra śniegu, jednak na tym "śniegu" rosną palmy, więc bawełna wydaje się być lepszym pomysłem niż śnieg. 😉
Pamukkale składa się z wielu gorących źródeł i tarasów, powstałych z wapiennych osadów. Przez wiele z tych tarasów przepływa ciepła woda, jednak Pamukkale zmienia się i wody niestety ubywa. Wiele tarasów jest już suchych, według mnie to ciągle wygląda pięknie. Jutro Wam pokażę tarasy, przez które przepływa woda, a dzisiaj te wysuszone.
Po tarasach wypełnionych wodą można spacerować, ale tylko na boso. Z racji, że byliśmy w Pamukkale w grudniu, i poranek był dość chłodny, mieliśmy obawy przed tym spacerem. Jak się okazało, niepotrzebnie, woda była cieplutka. 🙂