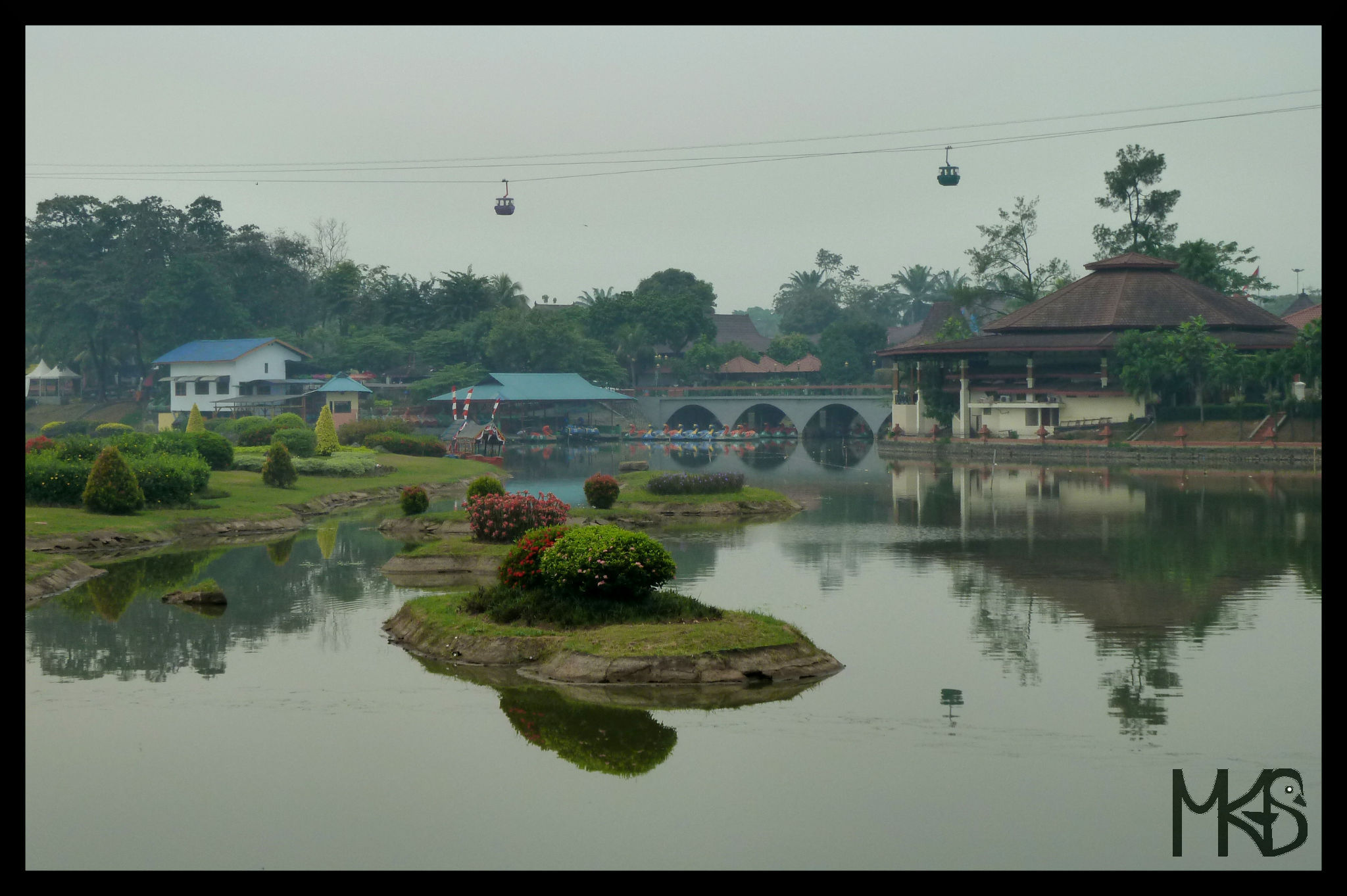 Jakarta is the capital and the most populous city of Indonesia (officially called the Republic of Indonesia), and it's located on the Java Island. To be honest, I didn't find nothing super interesting in Jakarta, so if you're planning to spend a day there, go to Taman Mini Indonesia Indah that is a miniature park of Indonesia. You'll find there miniature buildings or animals from different parts of Indonesia.
At some point in the history, Jakarta was the capital of the Dutch East Indies (known as Batavia at that time). And you can still find in Indonesia some remainings from a "Dutch period", e.g., windmills, people speak Dutch language, or a legend about the flag of Indonesia…
Indonesian flag was officially adopted in 1945, after Indonesia became independent from the Netherlands. The flag is a horizontal bicolor with two equal horizontal bars; red at the top and white at the bottom – like flag of Monaco or Polish flag up side down. So what does it have in common with Dutch flag? Well, under Dutch colonialism, Dutch flag (horizontal red, white and blue) was seen in many places in Indonesia. Apparently, the Indonesian independence movement tore apart the Dutch flag and removed the blue color, so only red and white remained. It happened in 1945 on top of Hotel Majapahit in Surabaya.
__________________________________________________________
Dżakarta to stolica Indonezji, a także jej największe miasto. Dżakarta położona jest na wyspie Jawa. Szczerze mówiąc nie znalazłam nic bardzo interesującego w Dżakarcie, jedyne miejsce które polecam to park przedstawiający Indonezję w miniaturze, zwany Taman Mini Indonesia Indah.
Przez kilka wieków Dżakarta nazywana była Batawią i stanowiła część tzw. Holenderskich Indii Wschodnich, czyli kolonii holenderskiej. Pozostałości po tym okresie są ciągle widoczne w Indonezji, np. znajdziemy tu wiatraki, spotkamy wielu Holendrów, a także osoby znające język holenderski, a do tego dochodzi legenda o indonezyjskiej fladze…
Indonezyjska flaga istnieje w obecnej postaci od roku 1945, kiedy to Indonezja uzyskała niepodległość od Holandii. Flaga Indonezji wgląda jak "polska flaga do góry nogami"; jednak co to ma wspólnego z Holandia?
W trakcie okupacji holenderskiej, używanie indonezyjskiej flagi było zabronione, więc widniały tylko flagi holenderskie (poziomo: czerwony, biały i niebieski). Legenda głosi, że ruch niepodległościowy Indonezji zerwał niebieski kolor z holenderskiej flagi i w ten sposób pozostał tylko czerwony i biały. Sytuacja miała miejsce w 1945 roku, przed Hotelem Majapahit w mieście Surabaya.