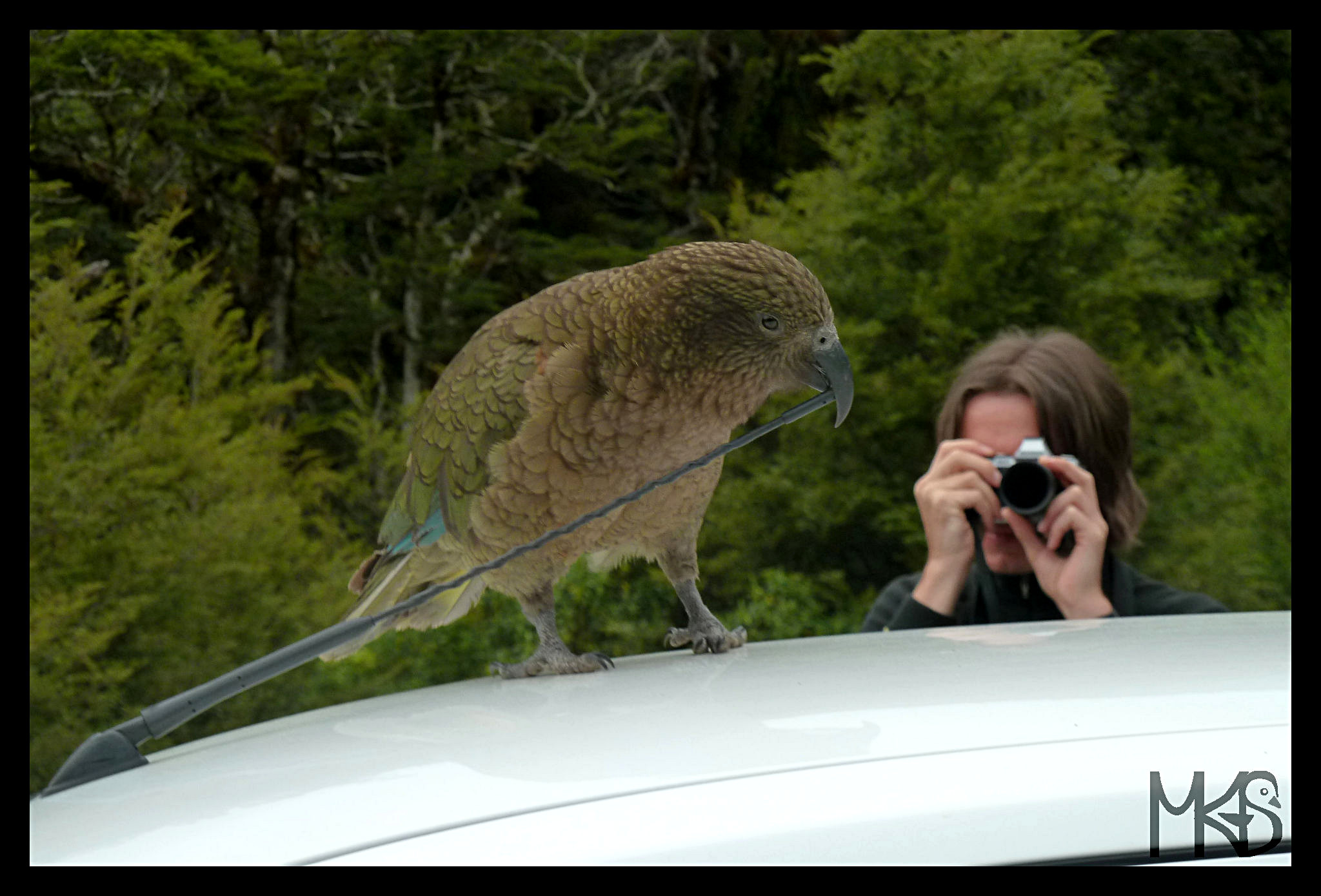 This big, green parrot from today's picture came to us, to eat parts of our car, rubber pieces are its favorites… 😉 If you met them in New Zealand, you know what I'm talking about. If you've never heard about Kea you may think I'm joking… but I'm not…
These cheeky birds learnt that humans always have something to eat, so it's clever to check them. Especially, when we go for a hike, it may happens that rubber parts of our car will be eaten/damaged by this alpine parrot and our items spread around.
When one Kea came to us, we're excited and were taking pictures of it. But when the second one appeared, I got a bit scared.
My husband finds them very cute, well… I prefer penguins. 😉
p.s. I drew a kea, it's really nothing sophisticated, if you want, you can find it in Drawings.
__________________________________________________________
Ta wielka, zielona papuga ze zdjęcia, może do Was przylecieć aby skosztować wszelkiej gumy w Waszym aucie. Jeżeli zwiedzaliście Nową Zelandię, to wiecie co mam na myśli. A jeżeli jeszcze tam nie byliście, możecie pomyśleć, że żartuję…
Nestor kea, to sprytna papuga. Nauczyła się, że przyjeżdżający w góry ludzie zawsze mają jakiś prowiant, więc warto zajrzeć do ich samochodu. Od czasu do czasu zdarza się, że w trakcie wędrówki po górach, nasz samochód może zostać zaatakowany przez kea. Żeby dostać się do środka, ptaki muszą tylko wydłubać uszczelki z okna, wtedy szyba sama wypadnie, a one dostaną to co chcą. Proste, prawda…
Gdy ta kea ze zdjęcia do nas podleciała, w pierwszej chwili chwyciliśmy za aparaty i robiliśmy jej zdjęcia, np. jak zjada naszą antenę samochodową… 😉 Gdy przyleciała jej znajoma, to ja się trochę przestraszyłam, to nie są małe, słodkie papużki…
Mój mąż uważa, że one są bardzo urocze, no cóż, ja ciągle wolę pingwiny. 😉
p.s. Bawiąc się cienkopisem narysowałam taka papugę, nic rewelacyjengo, ale jeżeli macie ochote zobaczyć – to znajdziecie obrazek w zakładce Drawings.